Travel Light
Save the hassle of bringing your gear on flights, car rentals. We have what you need to make your vacation with small children easier.
Check Baby Gear for Travel
Focus on the Adventure
Go off the beaten track and enjoy the Rockies as it's best. Go for epic hikes, enjoy the crystal clear lakes and waterfalls
Check Baby Gear for Adventure
Enjoy Yourself
Be confident that we can provide all the gear you will need for your trip to feed, entertain or soothe your baby.
Check Baby Gear for Exploration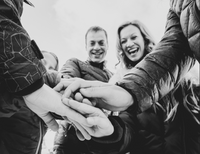 Hi there!  
My name is Viktoria and together with my husband, Denes launched this rental website to help parents and their families make their vacation more enjoyable by lightening their load.
I am a mother of 4 and understand how overwhelming it can be before a big trip. We are a busy family on the go who have made the Canadian Rockies our home.
We love to work, live and play here, and we hope, you will enjoy many moments in the Rockies. We would like to provide you the best care so that your vacation will be memorable and happy and not filled with struggles over who forgot to bring the stroller.
Our responsibility is the gear. Yours is creating mountain adventures that will last a lifetime!
Browse the Rental Collection